turn your interest into income
Monetizing your mindset is getting your brain conditioned to think constantly how to monetize anything and everything. Of course you won't monetize everything you think about. You do, however, constantly and automatically, think about the possibility.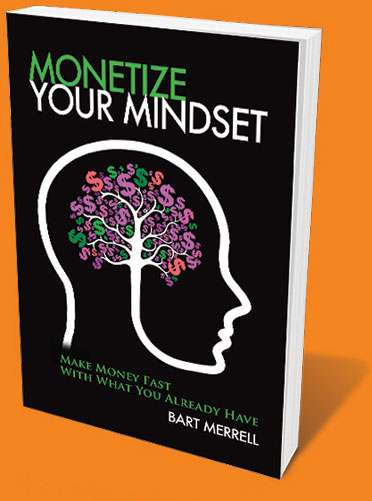 Monetize Your Mindset is not a "how to" book - it is a "how to think" book.
Actually it is a how to see book; how to see opportunities all around you that others miss. What makes the difference between becoming financially secure or constantly living on the brink of financial despair - where a major medical issue or even a simple car problem can push you over the edge? 
Show More
Your money mindset. The way you think about money and the opportunities that bring money your way.
Did you know that practically anyone can succeed as an entrepreneur? In fact, everyone who wants to be financially secure, could be and should be financially secure.
Tools and technology that were once out of reach of the average individual are now easily accessible. Systems that once cost thousands of dollars are now essentially free. Marketing and promotion concepts that were impossible just a few years ago are now doable. Anyone can build multiple streams of income that supplement or even replace a "real job". "Anyone" means you, provided you have the right mindset.
It's time to Monetize your mindset. What do you like to do? What do you need to do? What are you already doing? It is time to monetize it – and this book shows you how.

Show Less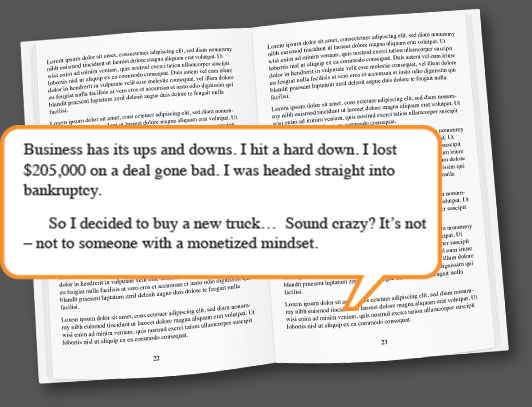 We seem to be the only animal on the planet that is willing to risk everything for a cause outside ourselves or those close to us. That is called "nobility." A natural outgrowth of nobility is stupidity. We seem to simply enjoy scaring ourselves half to death, for fun. My friend Brad Barton says, "We like to enjoy ourselves half to death."
You create a win for everyone when you Monetize Your Mindset. With whatever idea, tool, or system that helped you achieve your goals, you help others accomplish theirs. That is what monetizing your mindset is about: enhancing your income as you help others enhance their lives.
I have monetized music, weight loss, bungee jumping, speaking Japanese, real estate home purchase….
I even monetized my truck… What can you monetize?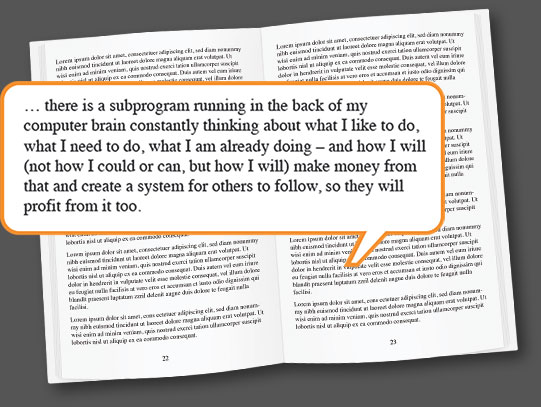 Praise for Monetize Your Mindset
As a psychologist, I regularly counsel with my clients about the importance of mindset. Monetize Your Mindset takes the discussion to a whole 'nother level. Bart's straightforward approach to capitalizing on what we are already doing and what we are passionate about, makes a lot of sense. It also creates a sense of hope. Everyone has something to contribute, for which others will pay us. Usually it is much closer to us than we think. Bart illuminates the obvious through stories and examples that are clear, entertaining, and founded on solid psychological principles. Our mindset is worth more than we think!
Paul H. Jenkins
Ph.D., Positivity Psychologist
Read More
Do you sometimes face financial hardship? For most, that's inevitable. How do you handle it? Monetize Your Mindset, is more than a how-to book; it fundamentally changes the way you think about money. It awakens your entrepreneurial spirit and helps you see opportunities all around you. Great for anyone trying to get ahead.
Ty Bennett
Author, Partnership Is The New Leadership
I am a mortgage broker. When the loan I am working closes, I am unemployed until the next deal comes my way. Creating a continuous stream of residual income excites me. Monetize Your Mindset stimulated my thoughts more than anything I've read in a long time. I am ready for the whole pie instead of a piece of someone else's pie! Great book! Thanks Bart!
Linda Creswell
Mortgage Loan Officer & Credit Repair Specialist
"Congrats Bart, on this simple yet profound masterpiece that illuminates a revolutionary approach to creating and sustaining wealth. Monetize Your Mindset is a must read for everybody at every level of income because it is not a how to do book – it is a how to think book – a book that recalibrates the way we think about money and how to make it."
Dan Clark
New York Times Best Selling Author of The Art of Significance,
Hall of Fame Speaker, University Professor